Sanctioned programme alongwith Annual Intake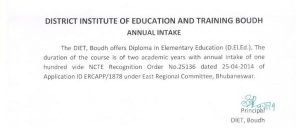 Fees Charged from Students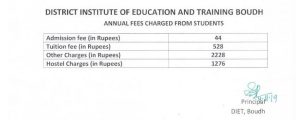 Facilities Added


Instructional Facilities Uploaded

Activities Undertaken
2019-2020
Demonstration Model Lessons
Demonstration model lessons started on 26th, 28th, 30th November 2019 by Teacher Educators and Senior Teacher Educator of DIET, Boudh in Science, Mathematics, Social Studies, Odia and English with the presence of D. El. Ed students of the Institution.
Criticism Lessons
Criticism of lessons are one of the most important aspect before internship for D. El. Ed student teachers which was successfully completed (from 29.11.2019 to 10.12.2019) with correction and modifications by the subject expert Teacher Educators along with principal of the institute.
Internship at the Schools
D. El. Ed Students-Teachers (Both 1st/2nd Year) of this institution were sent to different Primary and Upper Primary Schools (from 11.12.2019 to 12.01.2020) of Boudh for internship programme as per the pre-schedule. The Teacher Educators and Senior Teacher Educator were also assigned to monitor each school during the internship period to provide feedback to the Students-Teachers for their successful completion of the internship programme.
Activities Undertaken
2020-2021
Commencement of On-Line Classes for D.El.Ed. Student Teachers
Due to pandemic Situation of COVID-19 it was completely impossible to hold Physical face-to-face classes for the D. El. Ed Student-Teachers. As per the order of the Director, TE & SCERT, Odisha, Bhubaneswar online virtual classes were started from 07.05.2020 to 13.06.2020 with the help of the different social media.